With all thanks to Theresa-The-Great-Designer, my new blog look and feel has been thrust upon the world.  While I would appreciate your feedback on the design, the big question is "How does this site makes me look?", answered through a model you can apply to your own communication efforts.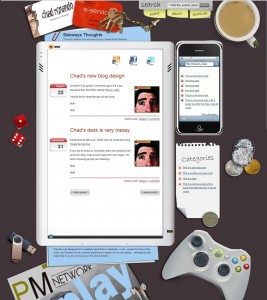 First, the technical details. We hacked the Notepad Chaos WordPress theme beyond recognition, applying a design Theresa came up with for me a few month's back.  The whole WordPress thing has been a lot easier to set up than I expected.  Changes to a couple of files, click a button in the admin, and we are good to go.
Theresa also did up a background for my Twitter page, with hidden secrets for standard 1024 monitors as well as wider screens.  More tweaks will be coming, but it was pretty simple to get to Phase 1.  Like most professional start ups designed to take over the world, it is important to get something out there to improve rather than wait in perpetual limbo as you wait for the unlikely perfection.
Taking a step back, I ask myself a few questions:
Does this blog represent who I am?
It is easy for there to be a disconnect between the communicator and what is communicated, particularly online as people hide behind an LCD veil of anonymity.  Is what we say everything we are?  No, because communicating our insecurities, fears, honest opinions and unsocial quirks proves to be somewhat counterproductive.  Once we commit to avoiding outright dishonesty, we walk the tenuous line between transparency and faux pas.  Still, I would hope those who know me believe my blog reflects the reality of who I am.
Does this blog represent who I want to be perceived to be?
I am conscious I am writing for a diverse past, present and future audience consisting of friends, family, managers, staff, competitors, critics and colleagues.  While I modify my approach for each scenario, I like to think there is not too much of a disconnect between who I think I am and who you perceive me to be.  When I struggle for words based on my perception of what others may think, it may be time to reassess my purpose in doing what I do.
Does this blog represent who I aspire to be?
This is almost more important than ensuring accuracy with who I am.  I will admit to not feeling as together as what I may write.  But how great would the world be if we all spoke of ourselves and others based on our vision of a positive future state?  It's utopian and the realist would caution against disregarding our deficiencies.  However, it is the world I live in, and quite a happy place at that.  Speak to where you are going, and you will be a lot closer to your goals than if you did otherwise.
While appropriate for everyone, this is an exercise for my colleagues in the marketing world to apply to client communications. In keeping with the "social" aspect of this social medium, consider some form of communication this past week and ask yourself "Did that [proposal / conversation / presentation / email / tweet / Facebook post] represent who I am, who I want to be perceived as, or who I aspire to be?" Try again replacing yourself as the first person with your company or your client.
I welcome your comments, compliments, critiques, criticism, and any other family-friendly words starting with "c" you can come up with.